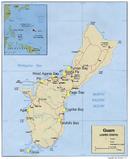 Guam Spots
Beaches
Guam has several good kiteboarding spots. The wind direction usually helps determine which beach most of the local kiteboarders use on any given day. For a map showing the spot locations, click on the thumbnail to the right.
Since pretty much all of the kiteboarding on Guam is done over the reef, booties are recommended and kiteboarding is usually not a good idea when the tide is low. Thanks to the wide reef areas nearly all of the kiteboarding spots listed below have excellent flatwater conditions. The spots are also easily accessible by car with ample parking right at the launch areas. Always respect and give plenty of room to other beach users including swimmers, divers and fishermen.

Togcha
Togcha/Ipan (next to Jeff's Pirates Cove)
Description
Togcha Bay is the best place to go kiteboarding on Guam, primarily due to the favorable wind conditions. Launching from Ipan beach can be a little tricky so be careful to avoid other beach users and trees. On the water watch out for the fishing platforms and give them lots of room, especially if fishermen are present. Most kiteboarders stick to the flat water riding over the reef, although some also like to play in the waves at the edge of the reef.
Best Wind Directions
Northeast, East, Southeast
Directions
Ipan beach park is just south of
Jeff's Pirates Cove
on Route 4.

Pago Bay
Pago Bay
Description
This is a nice spot for kiteboarding although you should watch out for swimmers. The beach is sometimes spoiled by empty beer cans and other trash. The water is deeper than at Togcha so the area is not as good for learning. There is a sandy bottom for about 200 yards but there are also some coral heads which can be dangerous.
Best Wind Directions
Northeast, East, Southeast
Directions
Accessible via a side road from route 4. As you are coming south from Chalan Pago turn left just before the bridge with the two A-frame structures at the ends of it. If you start climbing a hill and can see the bay below you have come too far.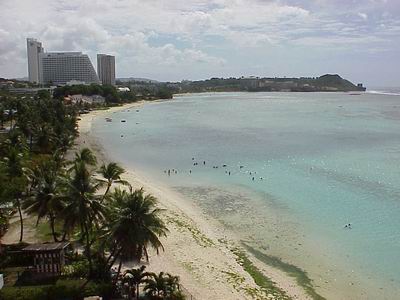 Tumon Bay
Tumon Bay
Description
This spot is very busy with other water activities and swimmers so be careful. The sandy beach provides a good launch area. Watch out for shallow areas and the small, low lying island in this area.
Best Wind Directions
West-Northwest, North
Directions
There are good launch sites near the Hilton and Holiday Resort hotels although other places can work as well.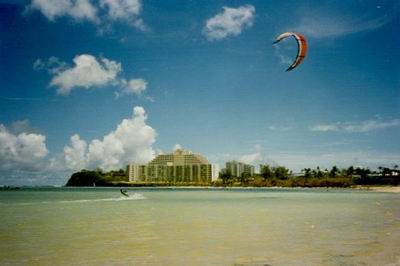 Santa Fe
Santa Fe
Description
This spot has a very nice sandy beach but parking can be tricky. It is a fun place to kiteboard but is quite sheltered so is limited by the wind direction.
Best Wind Directions
West,West-Northwest
Directions
If you're coming from the north turn right at the Agana Pizza Hut. There are a couple of public beach access right of ways on the left, but all of the parking near the beach is private.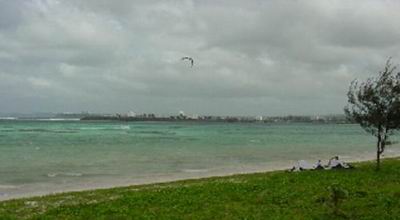 West Agana Bay
West Agana Bay (Kite Beach)
Description
This is a very accessible spot with decent kiteboarding although the wind can be gusty if it is coming over the marina and land to the east.
Best Wind Directions
Northwest, North, Northeast
Directions
Parking for this spot is opposite the Agana KFC and Courthouse on Marine Drive.


Piti
Piti (Fisheye)
Description
When the winds are favorable this a good spot with a large reef area. There are frequent SCUBA and other activities near the Fisheye observatory so keep a safe distance from it.
Best Wind Directions
West, Northwest, North, Northeast
Directions
Follow Marine Drive south past Asan park and turn right into the parking lot just past the Fisheye marine observatory.

Family Beach
Family Beach
Description
This spot is not good for beginners due to the deep water and narrow launch area. It may not be safe to launch at all when the water is crowded with kids and wave runners. When conditions are right this can be a nice wide open area to ride, but watch for boat traffic. Since the water is deep low tides are not an issue here.
Best Wind Directions
Southwest, South, Southeast
Directions
Turn right at the Piti power plant following signs for the commercial port. Continue past the port all the way to the end of the road and park under the trees.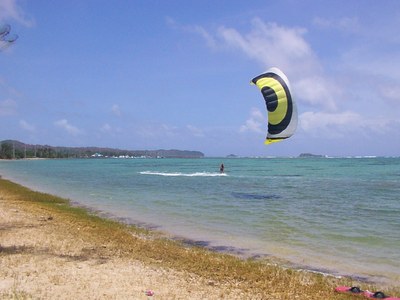 Agat
Agat
Description
Agat is only a viable kiteboarding spot when the winds are blowing from the right directions. Even when the winds are favorable this is not a good spot for beginners due to the power lines and unforgiving rocky areas downwind of the launch site.
Best Wind Directions
Southwest, West, Northwest.
Directions
To get to the launch area follow route 2 south through Agat and past the cemetary on your right. The kiteboarding area is located just north of the marina but the beach is very narrow and not ideal for launching.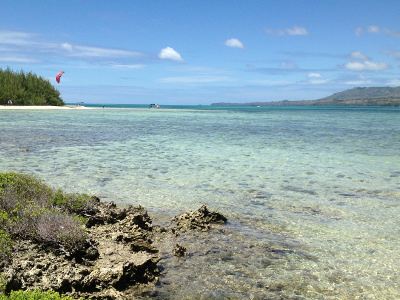 Cocos Island
Cocos Island
Description
Cocos Island is an incredible place to kiteboard, but only if you are able to consistently stay upwind. There are a lot of other water sports going on in the area as well which you need to watch out for. Also, access is not as easy as other places since you need to take a boat to the island.
Best Wind Directions
East, East-Northeast
Directions
Follow route 2 south to the village of Merizo where you can catch a ferry to Cocos Island.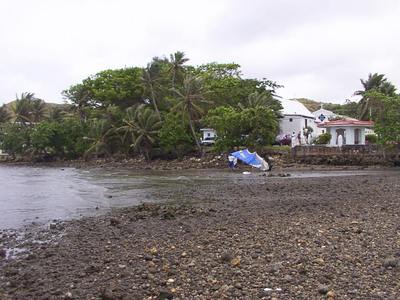 Merizo
Merizo
Description
This launch area is rocky and can be completely submerged during high tides. There are numerous obstacles to look out for including coral heads, ferry traffic and the remains of several piers. On the plus side this spot has some deeper water so it is kiteable even when the tide is low. With the right conditions it may even be possible to kite all the way to Cocos Island.
Best Wind Directions
Southeast, South, Southwest
Directions
Park at Santa Marian Kamalin Park which is next to the only 3 way intersection with stop signs on the main road in the southern part of the island. The launch site is directly in front of the parking area.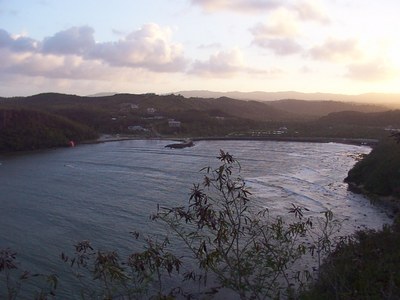 Talofofo Bay
Talofofo Bay
Description
This spot is difficult and you should not try to kiteboard here unless you are very experienced and have plenty of help for launching, landing and possible rescue. The shoreline is mostly rocky and there can be strong currents. When you first start kiting you will have to make headway up wind in a narrow space to clear a rock jetty. The water is deep so you won't be able to stand up if you break down. For experienced riders Talofofo Bay offers good surf conditions for wave riding (especially when the swell is coming in from the East) and the deep water means the spot is ridable at low tide.
Best Wind Directions
East
Directions
Follow route 4 south to Talofofo Bay. Park on the left after crossing the bridge.